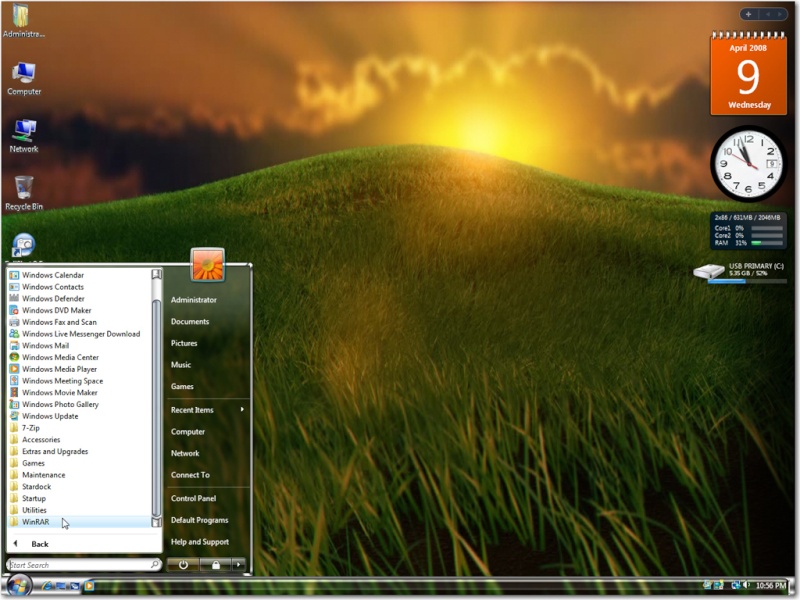 Note : About KB938371 update, this update was the fix by microsoft for vista users who were not getting vista sp1 hotfix update on their update list. now as this edition already have integrated sp1, you dont need to download this hotfix.( i dont know y this update is showing in updates list! ). just skip that hotfix.

32 Bit Edition
Language : English ( Keyboard layout for all other non-english is supported )

Recommended System Requirements :

2 GHz CPU ( 800 MHz Minimum )
1 GB RAM ( 256 MB Minimum )
Graphics Card Which Supports Windows AERO ( This is to enable AERO Theme on vista )

Installation :

You can perform 2 types of installation, either by booting this DVD or by clicking on "setup.exe". Both ways installation will be automated.
Upgrade Option is available, so u can upgrade your XP to this vista edition.

Activated & Genuine Copy:

This copy of windows will be activated during last phase of installation. and it also will be genuine. so u dont need to activate is manually. You can also update your windows with Microsoft updates without any problem.
Also , office 2007 sp1 included is also genuine!

Features:

#. Office 2007 SP1 Enterprise Integrated ( genuine copy )
#. Fully Automated Setup you need to choose language, Upgrade option and partition only.
#. Automated Activation, You wont need to connect to internet to activate your windows. It will be done Offline and automatically.
#. Based on windows vista ultimate
#. Winrar and 7zip installed for extraction purposes.
#. No components removed
#. All Windows Ultimate Extras Included.
#. Patched Uxtheme files so u can use any 3rd party themes.
#. 18 selected themes included
#. 65 gadgets included
#. Almost 40 DreamScene Videos & Stardock Deskscapes integrated, and there will be Dreamscene enabled on 1st logon.
#.Some Utilities added for troubleshooting purpose ( For Advanced Users )
#. Nice looking setup .
#. New Default Theme.
#. New Buttons, logon screen.
#. Registry Tweaks for better performance & Visual Effects

Tweaks Included:

#. "Take Ownership" in context menu
#. Additional Avlon Effect ( DWM )
#. Slow Motion Effect ( DWM )
#. PowerOff after shutdown
#. Windows will tell you exactly what it is doing when it is shutting down or is booting ( you can see it on logon screen )
#. Added command prompt to right click context menu
#. Disabled User Account Control ( UAC) [ you can enable this from control panel later. ]
#. Add "Explore from here" context menu while right clicking on folders
#. Get rid of the Windows Mail splash screen
#. Show Super Hidden Files in vista
#. Maximum simultaneous downloads for IE to 20 ( default is 2 )
#. Enable ClearType Tuning
#. Added 'Copy to Folder' and 'Move to Folder' to right click context menu
#. Added 'open with notepad' to right context
#. Disabled Windows Media Player AutoUpdates
#. Added "Advanced System Properties" to right-click on Computer
#. Faster browsing with IE

Torrent Link:

Click me.!